Top Day Trips From Hoi An
01/06/2022
Hoi An is a tourist hub retaining authentic Asian traditional architecture. As a UNESCO World Heritage Site its nostalgia vibe makes it an incredible place to see, with several attractions from the ancient square with unique architectures to the great nature and countryside nearby. It is also close to many other touristy areas in the middle of Vietnam that only require a day trip from the old town. Below are the most attractive places tourists can visit in a day from Hoi An. Top Day Trips From Hoi An.
1. Ly Son Island
2.Tam Thanh Mural Village
3. Triem Tay – Eco Tourism Village
4. Da Nang
At a distance of just around 30 klm tourists can easily travel between Da Nang and Hoi An by taxi, private car or bus for a reasonable price.
Da Nang is a picturesque city by the Han river and the coast of the East Sea in central Vietnam and is in close proximity to many tourist attractions. In addition, the developing service of a city dubbed as the most livable city in Vietnam makes Danang a tourist hub and a not-to- be missed destination in the country.
Besides the beautiful modern downtown city with excellent food. Tourists can find countless attractions in  Da Nang. There are Marble Mountains, Son Tra Peninsula, Hai Van Pass… We can not miss out beautiful beaches like Non Nuoc and My Khe.
5. Hue
Hue, the former and the last imperial capital of Vietnam is always an attractive destination for both domestic and foreign visitors. The city is about 125km from Hoi An and can be easily reached by bus or taxi.
The whole city seems to be a living museum whose every part is a tourist attraction. You need to spend as much time as possible in this city but if your time is limited there are particular sttractions that you should not miss. They include the ancient architectures like Emperors' tombs, the Forbidden City, poetic Huong River, Dong Ba Market and Thien Mu Pagoda.
6. My Son
Located 50km from Hoi An, My Son Holy Site is also a UNESCO World Heritage Site. It is a collection of Champa ruins located amongst the mountainous area of central Vietnams Quang Nam Province. It was the dominant city of Cham people between the 4th and the 13th centuries due to its defensible location.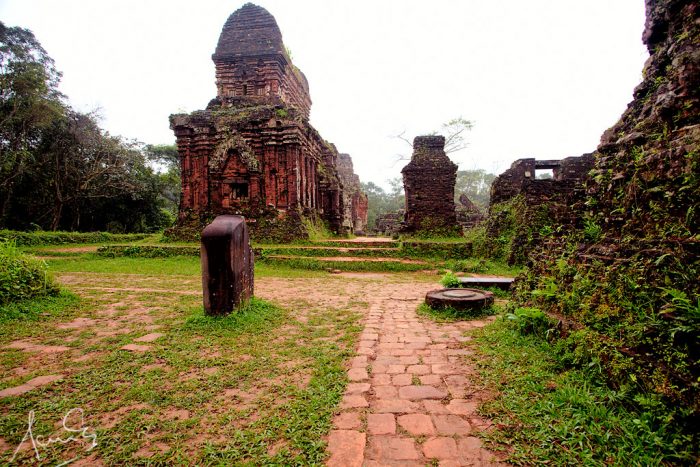 The complex houses 8 groups of temples and 71 standing monuments in a combination of architecture originating from Indian Hinduism and Buddhism. The brick constructions were interestingly built without mortar.
There is also a museum at the entrance of the site with artefacts and old images. There is detailed information in Vietnamese and English.
7 . Ba Na Hills
Ba Na Hills is nearly 60km from Hoi An. It has cool weather due to its high altitude with majestic mountain scenery and several tourist attractions there make Ba Na hills one of the most attractive destinations in the central region that tourists should not miss. At Ba Na Hills visitors can experience four seasons in just one day.
The 5km cable car system at Ba Na Hills was recorded as the longest single-wire cable car system (5,771.61 metres) in 2009. It not only transports passengers up and down Ba Na Hills but is also a tourist attraction. It provides tourists with an incredible experience when hanging halfway in the clouds, looking down to admire the vast mountains, beautiful waterfalls and the spectacular views of nature.
From the summit top tourists can view the whole area of Da Nang city and the surrounding countryside. The area is also enjoyable with theme parks, beautiful gardens and villas as well as poetic Mo Stream.
7. Cu Lao Cham (Cham Islands)
From Cua Dai Harbour in Hoi An tourists can take a boat ride of about 20km to reach the Cham Islands. The Cham Islands constitute a group of 8 small islands which form a part of the Cu Lao Cham Marine Park, a world Biosphere Reserve recognized by UNESCO.
It is regarded as one of the most unspoilt islands in Vietnam where visitors can enjoy nature at its best.
Cham Islands offer several sandy beaches, hills with forests and clean sea. Camping, swimming and scuba diving are popular activities to enjoy in the Cham Islands. Visitors can snorkel and admire the coral and diverse marine life with up to 20-metres visibility as well as watch local fishermen at work.
In the rainy season from October to February it is nearly impossible to visit the islands due to bad weather but in the dry season from June to August the islands offer tourists the best sea experience.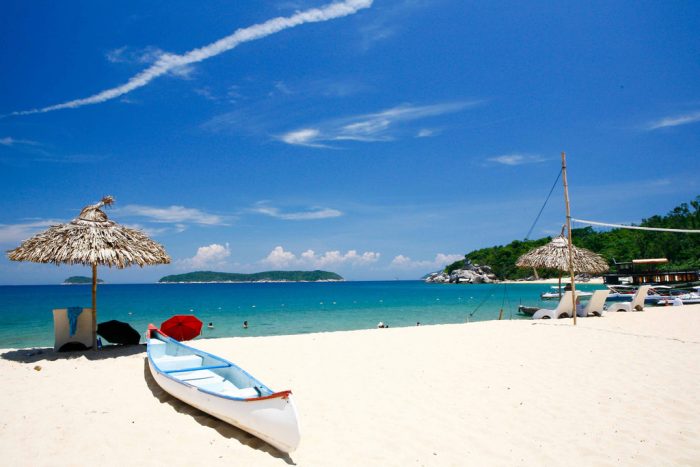 8. My Lai
150km to the south of Hoi An, My Lai Massacre Village is famous for the historic event when its people were cruelly massacred by American troops in 1968. The My Lai memorial site was built in memory of the locals killed. It is a destination that will take tourists back to the time of Vietnam War.
Touring the village one can see houses abandoned, war remnants left from the massacre, statues and recreations of the victims as well as the changes in life of local people since then.
There is a simple memorial built in the 90s to convey the horror of the incident and My Lai Museum displays images of the massacre and other events during the war. The exhibits are quite similar to those in other war history museums but the slaughter is clearly emphasized. The House of Evidence provides several documents, photos and objects etc of this massacre.
In one day visitors to the village can have a wonderful experience and learn more about Vietnamese history and see the post-war life in this land.
Other posts