Where to Cycle Around Hoi An?
01/06/2022
Where to cycle around Hoi An – Hoi An is a bicycle friendly city which has many nearby beautiful villages located not too far from the town centre . Cycling around Hoi An is definitely a highlight for your trip. You will able to explore some of the beautiful Vietnamese countryside and get to experience life outside of Hoi An on a half day cycling around Hoi An.
There are many choices for you to get out of the town for a day. Hoi An had been a prosperous trading port for a few centuries and many local people earned a living by providing products and services in the town. Various villages were founded during that time and their traditional work has been passed down from generation to generation. While cycling to the villages you can get close to nature and enjoy the peaceful scenery such as beautiful paddy fields stretching along the road and buffaloes eating grass by the road. Visiting the villages today will give you an opportunity to learn about their history and traditions.
You can easily rent a bike in the town at a price of VND 20,000 (nearly $1) a day. It usually takes tourists about 15-30 minutes to get used to the traffic in Hoi An. You may be very scared when first pedaling on narrow streets with lots of motorbikes riding and honking around. Do not be frightened. You just need to ride as close to the right and keep a safe distance from vehicles in front of you.
Here are some Hoi An villages we recommend
1. Where to cycle around Hoi An – Tra Que Vegetable Village
Photo by Loi Nguyen Duc
Situated 3 klm away from the centre of Hoi An, the village is a top choice for you to discover the cultivation of vegetables and work as farmers. Here you can discover the art of cultivating and watering plants and taste food during a cooking class with local dishes prepared by hosts. You can see a wide variety of organic vegetables growing as well as flowers and other produce.
After that you can have lunch or dinner at Waterwheel restaurant. You can also try local specialties such as nộm đu đủ (papaya salad) and bánh xèo (pancakes).
If you book a bike tour with ....... you can learn how to make traditional Vietnamese food at local people's houses. You also have a chance to be a real farmer. Villagers will instruct you to do farming including raking the ground, fertilizing the land and watering the crops. At the village you can spend time learning how to cook Vietnamese food such as tom huu and bánh xèo (pancakes) under the instruction of an experienced chef. Ingredients are very fresh because they are picked that day from nearby farms.
You can enjoy their food afterwards and may also try other local traditional dishes with vegetables from Tra Que village including Mì Quảng (Quang noodles), Cao Lầu (noodles with roasted pork) and Bánh Bao Bánh Vạc (white rose dumplings).
Find them
Hoi An Fun Bike Tour
567 Hai Ba Trung St, Hoi An
2. Where to cycle around Hoi An – Cam Kim Island
Photo by doubleh_s
Cam Kim Island is just 10 minutes by boat across the Thu Bon River from the town. It is very pleasant to ride around the village and have a glimpse of the peaceful village. You can stop to take photos with stunning rural scenes or have simple conversations with local people you meet. You can visit carpentry workshops to see how skilled craftsmen transform a simple piece of wood into high-quality wood products.
3. Where to cycle around Hoi An – Cam Thanh Village
Photo by Du Lịch Sinh Thái Rừng Dừa Bảy Mẫu Cẩm Thanh
The village, located about 4klm from the tourism hub of Hoi An has recently been a favourite sightseeing and eco-tourism destination for travellers. It is very famous for its over 100 ha palm forest and handicrafts made from palm and bamboo. On arrival you at the village you can cycle along 5km of winding flat roads and enjoy its amazing scenes of paddy fields and water coconut palm forests.
On your bike trip you can see local houses built from bamboo and palm and may visit Mr. Muoi's house to meet the man who makes unique bamboo bikes. You can cycle to Thanh Dong vegetable garden to learn how to farm by local farmers. After that tourists can go to Mrs Tu's fish sauce making house to learn about their tradition of making the fish sauce and taste the sauce.
The highlight of the trip is to catch crabs in the palm forest on typical baskets boats. Tourists can also use nets or lines to fish in the forest swamps.
4. Where to cycle around Hoi An – Duy Hai fishing village
Photo by James Breeze
It takes about 10 minutes by ferry from Cam Thanh wharf to Duy Hai village. Many people choose to depart early to see the sunrise on Thu Bon River and enjoy the busy morning with locals buying seafood from boats. You can see a wide range of seafood on sale including tench (tinca tinca), rabbitfish and crabs.
At Duy Hai village you can watch the women mending nets and talk with them. Before going back to town you may cycle around the village to enjoy the fresh atmosphere and cool air. On the way back you can visit Cam Thanh Water Coconut Palm Tree. You will meet the local people, have a chance to catch small crabs and enjoy fresh water coconut. To finish the tour we head back to Hoi An stopping at a roadside coffee shop.
5. Where to cycle around Hoi An – An Bang beach
An Bang beach is easy to get to (about 4 km) from the ancient city in Hoi An it's the perfect place to grab a spot of lunch or dinner. The beaches here are incredible – long stretches of beautiful white sand with rows of palm trees situated along the shore. There are also many children-friendly resorts. The water is clean and warm and it seems very safe to swim.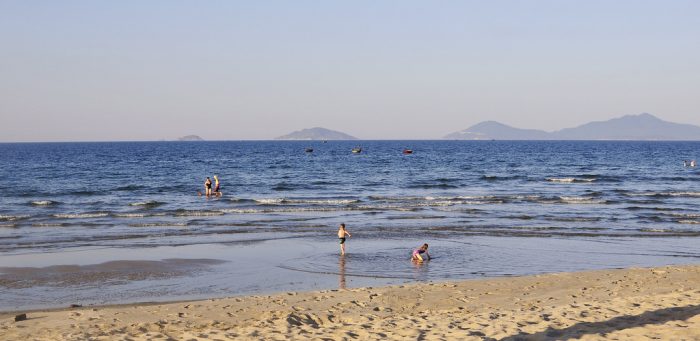 Photo by Sam Sherratt
There are many small bars with sun lounges on the beach that you can either pay for (maybe 50,000vnd) a day, or free if you eat (reasonable prices). At the beach you should go a couple of minutes to the left or right until the beach gets less crowded.
Your experience in Hoi An will be perfect for a day trip exploring the town and the surroundings by bike. If you are planning to visit the charming town do not forget to add "ride-a-bike" activity to the list. Grab free maps which are available everywhere and you'll get the best trip in Vietnam
Other posts