Top Street Food Under 20 Cents in Hoi An
01/06/2022
Top Street Food Under 20 Cents in Hoi An – Hoi An is a haven for street food. If you travel on a budget and wish to taste as many local special dishes as you can the town is a perfect destination for you. With only 20 cents you can try several street foods of high quality. Let's discover top street food under 20 cents in Hoi An below:
1. Kem Ong (Pipe Ice Cream) – Top Street Food Under 20 Cents in Hoi An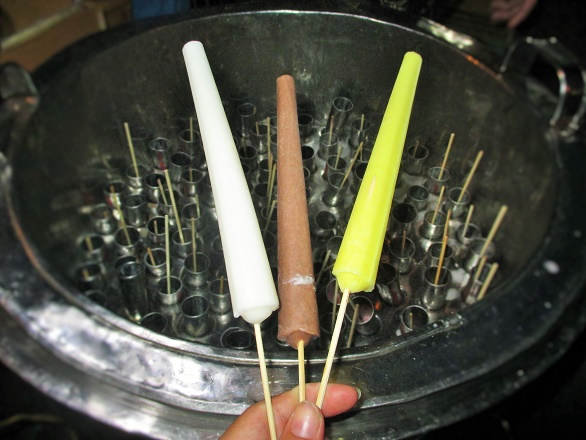 Photo by http://static.english.vov.vn/
The ice cream is made in small aluminum pipes and with its slight sweetness it is liked by both children and adults. There is a variety of flavours but the three popular ones are chocolate, durian and coconut milk. Each skewer costs about 5,000 dong in the town centre and about 2,000-3,000 dong if you purchase it out of the old town.
It may be hard to believe that food is very cheap in the tourist city of Hoi An, however, like other well-known places in Southeast Asia street food will not disappoint with its high quality at reasonable prices.
1. Thit Xien Nuong (Grilled Pork Skewers) – Top Street Food Under 20 Cents in Hoi An

Photo by Hoianfoodtour
When walking around the town you can smell delicious aromas of grilled pork skewers at the street stalls. Pork is chopped into small pieces and marinated with spices about 3 or 4 hours before being skewered on bamboo sticks and cooked on a charcoal grill. When eating you need to wrap the grilled pork with rice paper and vegetables then dip the mixture into the magic sauce. Once you taste it you will realize that there is nothing better than enjoying the spicy and flavoursome food in the cold weather in the winter. Each skewer costs about 5,000 dongs so feel free to fill your stomach with as much grilled pork as you can.
2. Banh Beo Chen (Steamed Rice Pancake With Shrimps) – Top Street Food Under 20 Cents in Hoi An
Photo by Sticky rice
You can find Banh Beo everywhere from restaurants to small food carts. To make Banh Beo you need to soak rice in water for about 2-3 hours before grinding it. Then you need to pour the four into small cups and steam them within a few minutes. After that let it cool down and put on small plates. Shrimps, ground pork and fried onions are mixed together then the chefs sprinkle the plates with the mixture and all you need to do is enjoy the Banh Beo with chilli and salty sauce.
You can try a few to experience the taste of the food or eat until you are full. There are salt and sweet Banh Beo in Hoi An and each plate costs about 2,000-3,000 dong.
3. Xi Ma, or Che Me Den (Black Sesame Seed and Coconut Sweet Soup) – Top Street Food Under 20 Cents in Hoi An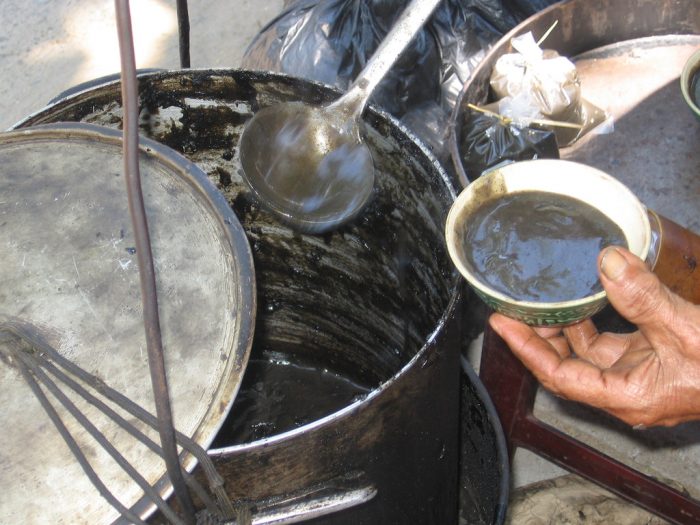 Photo by clumsyto
Many people in the old town are interested in Xi Ma which is not only considered a delicious dessert but also a good medicine. It is very good for the digestive system.
First, you need to grind sesame seeds and nuts in a food processor then add the mixture and sugar to the boiling water and stir until it gets thick. In the final stage add the coconut juice into the pot and the soup is ready after some minutes. The sellers will pour the Xi Ma into small bowls and you can enjoy them for only 5,000 dong per bowl.
4. A Variety of Che (Vietnamese Sweet Dessert Soup) – Top Street Food Under 20 Cents in Hoi An
Photo by Nhung Nấm
Che Ngot (sweet soup) is one of the favourite desserts in Hoi An. Street stalls offer tourists many choices such as Che Bap (sweet corn pudding), Che Hat Sen (lotus seeds sweet soup), Che Dau Xanh (sweet mung bean soup) and Che Dau Van (hyacinth bean sweet soup). All of the che have a sweet flavour and are very good for your health. Vendors will ladle the soup into small bowls so you can gradually eat them without worrying about being full.
A bowl of che or a plastic bag of che costs about 5,000 dong. You can sit down to eat at the stalls or take it away.
5. Diverse Cakes – Top Street Food Under 20 Cents in Hoi An
Photo by ★ Chicz Chuot ★
Cakes here are diverse and colourful. You can taste Banh Chuoi (steamed banana cake), Banh Tieu (Vietnamese hollow doughnuts), Banh Xoai (Mango fruit leather, fruit roll-ups), Banh Da Lon (steamed layer cake), Banh Khoai Mi Nuong (baked cassava cake) and Banh Phu (mung bean and tapioca, also known as husband and wife cake because it is served at Vietnamese weddings). You can buy one of each kind of cake so that you may enjoy all the flavours. The price for one is very cheap. You will pay 5,000 dong for a Banh Khoai Mi Nuong and 3,000 dong for Banh Da Lon.
Other posts